Our School
We are delighted to welcome you to Dosthill Primary Academy. At our school we are very proud of our kind, ambitious and vibrant learning family. Everyone feels extremely privileged to be part of the learning community here at Dosthill. We cherish every day together, knowing that, in every breath of every day, everyone will 'Explore, Dream and Discover' wonderful things on their exciting and progressive learning journey where everyone aims high to achieve excellence.
You will see smiling faces when you visit us along with challenging and enthralling learning in all areas of our school and during every valuable minute of our learning day. Children really do have a love of learning at Dosthill Primary and we are very fortunate to have such wonderful children, adults and families to achieve our visions and values together.
As a learning family and community, we have the following mission statement which guides and inspires us: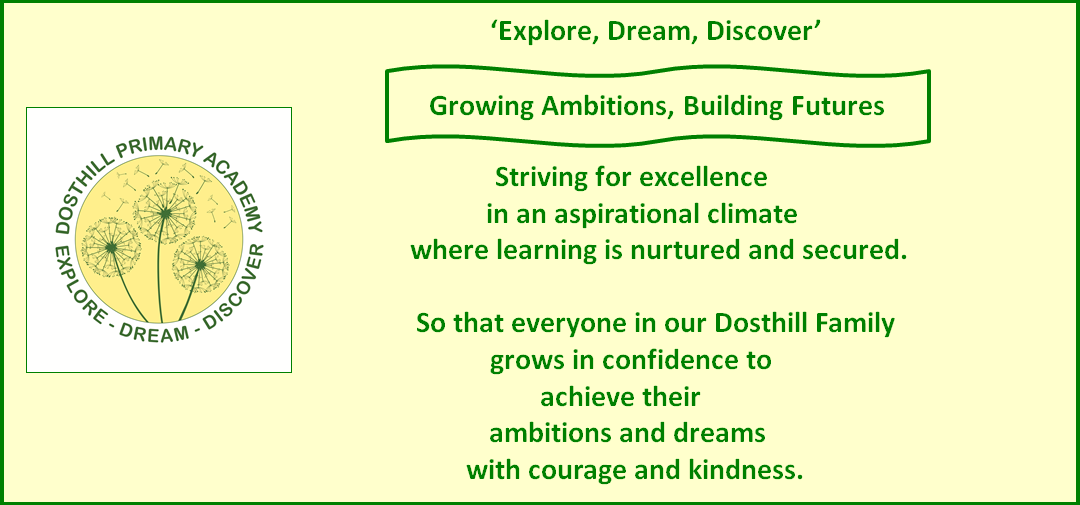 Aspiration, challenge and high expectations guide our work here at Dosthill; our nurturing and caring family ethos ensures that everyone relishes challenge with confidence and enjoyment.
Along with our mission statement, we have four key values which underpin our purpose and approach:

Everyone in our learning community promises to provide the best academic experiences and achievement for every learner. We are relentless in our pursuit of academic success for every child; this is our prime aim and we are highly driven to ensure that every child excels academically using targeted teaching and provision. In hand with this, we endeavour to provide excellence for all members of our learning family and to inspire everyone to strive for excellence. This includes excellence in teaching and learning, excellence in behaviour, excellence in our environment, excellence in catering, excellence in administration; indeed – excellence in everything that we do.
Along with this collaboration and team work is essential at Dosthill Primary Academy so that everyone (children, parents/carers, teachers, governors) constantly remain inspired to work together for each other. At our school, we are also driven to ensure that we provide every child with character qualities and skills for life; when children leave our school we are proud of the confidence, creativity, curiosity, adaptability and resilience that our children possess and we promise to nurture and promote character skills for life during every precious moment at our school.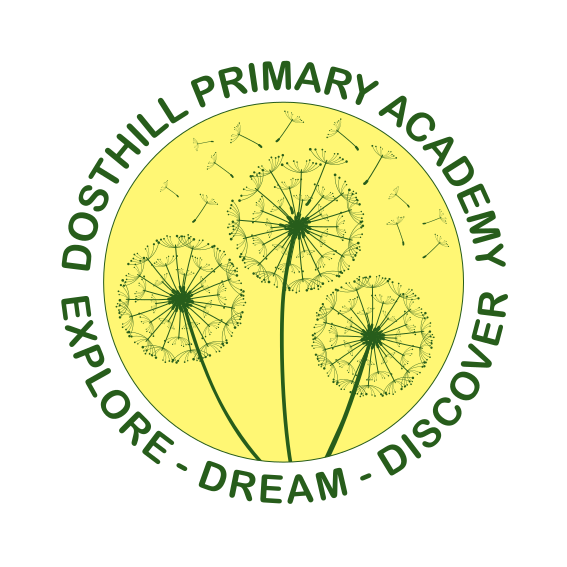 Our logo and uniform symbolises our vision and values. The central flower represents each child who is growing and excelling every day supported by the school family and their home family (the flower to the left and right). Together we are here to ensure that every child excels as they explore, dream and discover in all aspects of their lives. Education is a partnership between home and school and we place a great deal of emphasis on our relationship with parents/carers. We believe that children learn best when home and school work together for their benefit; our logo encapsulates this.
The twelve seedlings with our logo represent our twelve key values. Our children are immersed in these values throughout a school day. When our children leave school each day and finally at the end of year six, these values remain and will guide them now and in to the future. Our twelve values which are at the heart of everything we do are: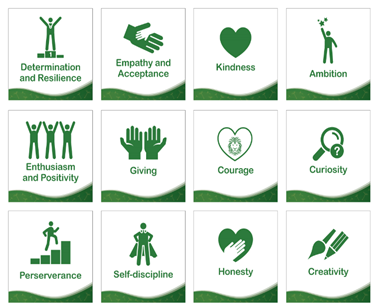 As a school, we provide a rich and exciting curriculum so that every learning experience is irresistible. We love sports, music, dance, drama and art. Visitors to the school and educational visits provide opportunities to extend learning to the wider learning environment, as do quality residential study visits offered in year six. In our pursuit for excellence, we have ambitious plans to improve our curriculum further in order to foster links with our local community and wider locality more effectively. We also have plans to promote and improve our outdoor learning provision to provide real life and relevant application of skills and learning. The future of our curriculum is extremely exciting and we can't wait to share the rich and engaging opportunities over the academic year ahead.
Visitors to Dosthill Primary Academy regularly remind us what a fabulous school we have and how polite, confident and spirited our children are. The warm, kind and ambitious atmosphere is also celebrated. We are very proud of everything we achieve together here at our school.
We know that the bar is, quite rightly, set high for education now and in the future and we welcome this.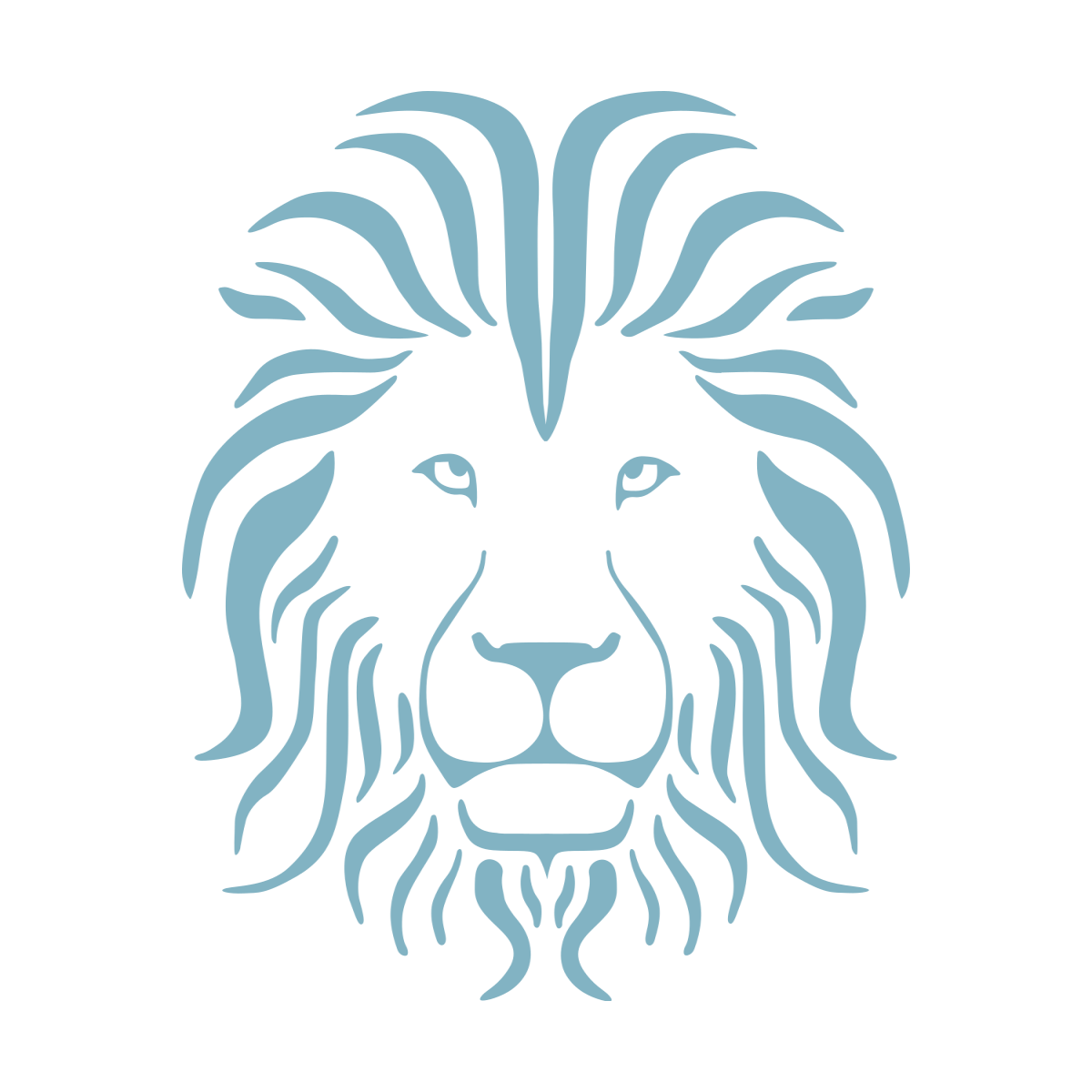 We will continue to work relentlessly for the children of Dosthill Primary and are fortunate to be part of the Fierté Multi-Academy Trust where collaboration and school to school support further supports us in our pursuit of excellence.
As the Executive Headteacher at Dosthill Primary, I feel extremely privileged to work with such caring, creative and inspiring children, parents/carers, staff and governors who work together to achieve our shared visions and values as part of our safe, happy and kind learning family. We look forward to welcoming you to our school.